Universal Core Healing is a Fact, Evidence, and Truth-based Spiritual Energy Healing Modality. That Rapidly Expands Consciousness. Why? Simply because it removes your karmic imprints, also known as energy blocks, out of your energy body permanently. This allows for rapid healing and expansion of your consciousness.   
Universal Core Healing is here to awaken all people to a more fact-based spiritual truth and enhanced spiritual power, his spirit teacher Avatar Babaji gave Universal Core Healing to Tony, The Healing Medium.  Universal Core Healing gets right to the root cause of disease and recurring negative life patterns.  This allows for more permanent healing.   Eliminating decades and decades of wasted time and effort.
Heal Your Past Experiences
Your current state of health and happiness directly results from your past experiences and past lives stored in your cells, DNA, and energy fields. Just as you are what you eat, you are what you experience in life.
The build-up of major stress, trauma or abuse will cause dysfunctions. Your body responds to energy imbalances through pain, stress, anxiety, grief, tiredness, fear, hurt, low self-worth, relationship problems. The list could go on. These are signs you have ignored your physical needs and compromised your feelings and instincts.
Learn Holistic Wellness and Spiritual Realization with Courses to Transform Yourself from a life of Pain and Suffering to a life of freedom
Get unstuck and fast-track your progress. Use spiritual healing secrets from an award-winning healing system comprised of advanced, contemporary and ancient techniques. Heal the emotions, DNA, blueprint that shifts your relationships, health, career, and finances. Experience a complete energy detox and an energy spring clean! Life will never be the same as you release yourself from the Matrix.
Universal Core Healing is not a class.  It is a Tutelage brought by Spirit Beings to Advance Human Consciousness.  The learning never stops.
1-A "Karmic imprint" is the energy generator and the power source behind your negative recurring life patterns and disease. In simple terms, a karmic imprint creates your bad karma.  A karmic imprint is the power source behind every negative manifestation in your life.  Karmic imprints create our lives unknowingly.    Karmic imprints create our energy blocks.  Karmic imprints are the power source of energy, usually roundish in shape inside your bio plasmic energy field.   These energy balls vibrate at a specific tonal scale drawing in people, places,  situations, etc.. creating our life manifestations.   Once accurately located and identified, Universal Core Healing will show you how to implement an end to these karmic imprints in our lives manifesting havoc.
2-Universal Core Healing delivers the most potent Spiritual Awakening.   Once a degree of healing has been reached.  Universal Core Healing uses the world's most powerful third eye attunement.  To awaken the third eye and speed up the process of spiritual awakening.  A Universal Core Healer is not just a  Fact and Evidence Spiritual Energy Healer but also a Fact and Evidence base Spiritual Medium.  A Universal Core Healer can see the karmic imprints clairvoyantly inside your energy field.
3-Universal Core Healing teaches you how to eliminate these negative Karmic Imprints from your life permanently. It's that simple. Long-term permanent healing occurs once the negative karmic imprint is released from its power source.
4-Universal Core Healing -Spirituality For Self Healing- Manifesting and Expanding Consciousness brought to you by ascended master Mahavatar Babaji.
*********
How does Universal Core Healing compare to other healing modalities? The following is the most important piece of information you will ever learn about spiritual energy healing.
********

Pay close attention to it!!!!!!
While most energy healers work with energy blocks by manipulating the energy field. This merely serves as a quick fix! Temporary feel-good moment. However, most quick fixes never work! Why? Because they have not accurately and verifiably identified and located the" root cause" to why the energy block is there in the first place. Your negative karmic imprints will always come back until the "root cause" is eliminated. Universal Core Healing neutralizes and releases the "root cause". Delivering long-term permanent healing!
Robert's Experience with Universal Core Healing! Not all healings are the same.
Your energy healing and self-discovery journey covers: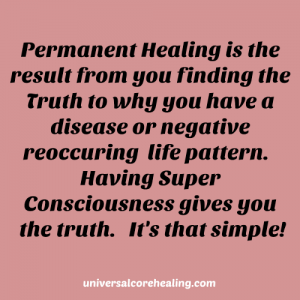 Revealing and Healing your life theme is the first step in spiritual awakening. This is done by doing a life review.  When done correctly, this will start the healing process and enhance your consciousness into Super Consciousness. Universal Core Healing will teach you how to reach this state of Super Consciousness. This state of Super Consciousness is who you were before the world gave you your karmic imprints. Everyone is psychic, but not everyone has Super Consciousness. Super Consciousness is reached thru healing and revealing your life. This can only be accomplished through doing a life review.
Universal Core Healing delivers your life review, The same life review you go through after you die in the afterlife. Except for this life, the review is done while still alive in the human incarnation. This is the best tool to examine your life's theme and explore your energy blocks. Life reviews are always done while in an out-of-body state. A state of super-consciousness!
Our Meaning of Super Consciousness
Universal Core Healing Practitioners fully developed accurate spiritual facts and evidence-based mediums and energy healers who can specifically find the "Root Cause" of any disease or negative manifestation in your life. You, as the client, will then know, in detail, exactly why the issue manifested into your life, where it originated from, why it is in your life "its purpose", and what needs to be done to resolve, remove and heal it permanently out of your life.
What you will learn with Universal Core Healing Tutelage
Requirements To Attend: Please Read!
1. Having an open mind and heart is required.  It has been our experience that preconceived ideas about spiritual energy healing and psychic development will hinder your progress, so please leave them at the door.  This training goes beyond what most believe to be " Spiritual Energy Healing and  Psychic Development".  This group is a tutelage, which means you will be required to be committed and dedicated to this training and organization. Tony will be teaching, instructing, and giving you the guidance required to engulf all aspects of spirituality.  If you are a practicing psychic, medium, healer, etc.  Please leave what you've been taught and the ego at the door!  This training will contradict what you have been taught by others! 
2. Sensitive information will be revealed about yourself and others.  No matter how sensitive the information given is, you must be honest about it.  No information will ever go outside our classes. Students are required to be an "Open Book." In the world of spirituality, there are no secrets; there are no skeletons kept hidden in the closet. What is discussed in class stays in the class.  No information will be shared outside of this organization without your consent. 
3. Please note-To fully understand the concept of Universal Core Healing will take a minimum of 6-8 months and beyond.  Healing and readings are done when only when the student is ready. 
4. This class is a process in spiritual development, Cleansing, purification & readings, etc. are done only when a student is ready. You must surrender in Humility and Gratitude and commit to your inner development by doing "The Inner Work" necessary. Dedication to your inner healing is of the utmost importance.
5. This is a Pro Black Lives Matter Organization.
6.  Absolutely No Ignorant Racist  Morally Degenerate Trump Supporters allowed.